POP UP SHOP! - Cobb Museum of Archaeology
Location
Idea Shop – Main Street, Starkville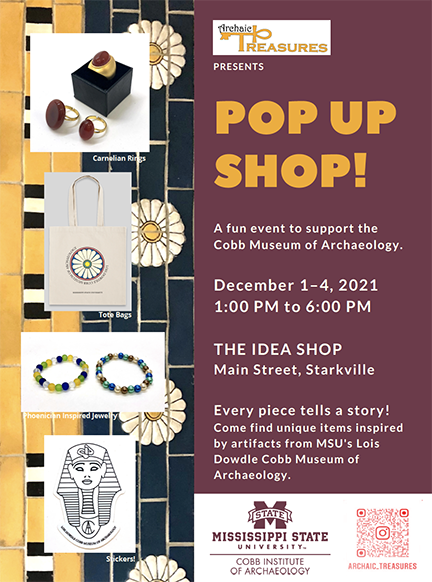 For a limited time, MSU's Idea Shop presents a Pop Up Shop event in support of the Lois Dowdle Cobb Museum of Archaeology at Mississippi State University.
Shoppers and history lovers will enjoy browsing and purchasing one-of-a-kind items inspired by objects in the Cobb Museum of Archaeology. T-shirts, jewelry, stickers, pins, tote bag, candles, and even cowbells are in limited supply.
History of Art Instructor Lori Neuenfeldt led a group of undergrad students in the research, design, and creation of the products in an effort to bring awareness to the Cobb Museum, which has been closed since the start of the pandemic in March 2020. As part of a special display in the Idea Shop, visitors will see actual objects from the Cobb collection like an Ancient Egyptian scarab and Ancient Roman bronze figure.
Located in the Cobb Institute on Mississippi State University's main campus, the Lois Dowdle Cobb Museum of Archaeology displays artifacts from around the world. The Cobb's collection of over 5,000 objects focuses on cultures of the ancient Near East and the Southeastern United States. Many of the pieces displayed in the museum gallery are recovered from Cobb Institute-sponsored excavations as well as donations from private collections. With artifacts relating to Ancient Egypt, Ancient Near East, Ancient Greece, Ancient Rome, and tribes of the Southeastern United States, the Cobb Museum is used by MSU students, staff, local communities, and researchers from all over the world.
All of the products in the Pop Up Shop are deisnged and many are hand made by honors students in History of Art I. These 10 students created their own brand called Archaic Treasures. Archaic Treasures is a group of young MSU students from different majors and backgrounds working together to design and roll out customized products for museums and collections to build public awareness while educating audiences in a fun and engaging way – with shopping! Archaic Treasures was formed in the Fall 2021 History of Art I Honors course. Start-up funds are provided by a Robert Hearin Foundation Fellowship.